This is a sponsored post written by me on behalf of Chiquita Banana. All opinions are 100% mine.
My daughter is always begging me for ice cream. I guess this is my portion of the genes, because I must admit I am an ice creamaholic. I could eat it all the time, day or night, and basically live off the creamy deliciousness.  My wife, though she keeps my ice cream habit in check, and especially doesn't like me giving it to Hannah all the time.  LOL!
I can remember being a kid in Kansas and those seemingly endless summers. We lived on a huge farm with lots of acreage that abutted to a creek. I spent my childhood playing in the creek and on those acres, and nothing, I mean nothing ended a great day of play and imagination that a bowl of homemade banana ice cream.  I can remember my Mom sitting on the porch with the ice and rock salt and setting the ice cream make up and I always wanted to help turn the big handle on the side.  We would sit there and talk, laugh, and sweat but at the end we would have an indulgently rich bowl of the best ice cream you have ever had.
I am older now, and while my ice cream machine is now electric, I can't enjoy the rich indulgent banana ice cream of my youth, (my wife won't always let me) as much as I like to. So instead I have to find new ways to get my creamy banana fix in.  My wife is a clean eater, so she is very adamant about making good food with whole foods, nothing processed. So, one night I decided to break out my wife's crushed ice maker and break into her stash of frozen Chiquita bananas and see if I could make ice cream.
I put the frozen bananas into the processor, and turned it on. I had to take a spoon and scrape down the sides a couple of times but right there before my eyes, the frozen bananas turned into a frozen cream ice cream treat! To make my wife even happier with me I added spinach and pineapple, which gave it an island flavor with a bright green flare!  I popped it into a bowl and let the magical mixture freeze a little harder so I could really scoop it. It was more like a soft serve consistency when I took it out of the processor.  (Once frozen it's slightly more brittle, but still amazing!)
Let me take a minute and talk about the quality of produce I like to buy.  Lets face it fresh food can be expensive. So I like to know that my hard earned money is going toward good quality, carefully grown produce.  I love Chiquita bananas. I don't know if it's the fruit lady I remember from my childhood etched into my brain, or just that their bananas really are of a better quality and I just think Chiquita when I think about buying bananas.  Check out the recipe below for this amazing ice cream. Give it a try, its ice creamaholic, 4 year old, and wife approved!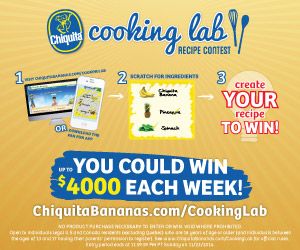 Chiquita is also doing some very cool!!  They are hosting a recipe contest where you could win $4,000!  Simply head over to the #ChiquitaCookingLab to learn more!  A new $4,000 winner is picked every week! Winners are also featured in a recipe video, hosted on the Chiquita recipe library displaying their personal recipe creation. Four-second place winners are also selected weekly to receive the Chiquita cooking gift pack. If you want to enter the content, you can easily Enter your recipe here!.  I'm entering with this delicious recipe!  I hope you enjoy it, I sure did, every last bite!
Ingredients:
5 frozen bananas
¼ cup of pineapple
1 cup of spinach
1 tbs of agave syrup (this is optional, added only for a touch of sweetness)
Directions:
Place bananas, chopped pineapple into the freezer until frozen through.
Place all ingredients into a food processor or blender and thoroughly mix.
Place into freezer and allow for a firm consistency or simply eat the soft serve right out of the blender.