I honestly believe that educating children starts early in every aspect of the home. One thing that I have been doing with Hannah since she was about two years old was cook. She loves spending time with me in the kitchen and creating new recipes. It's also a time I treasure the most with her. I get to impart wisdom to her and teach her little life lessons. I enjoy hearing her talk all about her day and hear about her burgeoning new friendships as the school year is in full swing by now. How did she get old enough to read, and write and spell? I need her to still be that sweet little two year old I made veggie cupcakes with…. But time does pass and they do get older, don't they?
Spending time with her preparing quick meals, that I can feel good about serving my family is a must.  I want to make sure that we get outside to play and run, I want her to be a kid. My wife often jokes that she has two 5 yr. olds because honestly I am a wonderful big brother, and I remember exactly how to pester like one too! LOL! We like to have breakfast for dinner a lot. It's a quick go to meal, that I can spend time with my family making, but that we have plenty left at the end of the evening to spend talking.  This is so important. I want Hannah to know she can talk to us about anything. I want to keep those lines of communication open now so that when she's a drama filled teenager she knows she can come to us. Back to Breakfast for dinner.
Hannah and I got all our ingredients out, and measured exactly what we needed. I grabbed the Simply Potatoes with onions and we headed over to the crockpot. I use Simply Potatoes because they are fresh, never frozen, made with real ingredients, easy to prepare and wonderful to have on hand. They are located in the refrigerated dairy section and with no peeling/shredding required, make dinner FAST. I knew I wanted to make a set it and forget it type of recipe but I also wanted it to be nutrient packed so it would give us energy for our outdoor playtime! I decided to make a crockpot quiche. The secret to this quiche is the parchments paper. I lined the crock with the parchment and then whisked the eggs until light and fluffy. I then mixed into the eggs with a spoon the rest of the ingredients. The beauty of this recipe is that you can mix in whatever ingredients you like. I used peppers, cheese, and of course the Simply Potatoes Diced Potatoes with Onions. I love using Simply Potatoes in recipes because they are Simply Potatoes are:
– Fresh, never frozen
– Located in the refrigerated dairy section
– Easy to prepare and have on hand – no peeling/shredding required
– Made with real ingredients
I unrolled the pie crust and placed it into the bottom of the crock fitting it on top of the parchment and pressing it into the sides. On top of the pie crust I put in the potatoes, followed by the mixture of eggs, cheese and peppers. I topped the crock with a paper towel and then put the lid on and set it to high to cook for 4 hrs. Feeling accomplished I set out to spend some much needed time with my family.  One thing that I truly love about cooking my slow cooker is that I don't have to worry about dinner,  and my hands are free are to do other things.
This Simply Potatoes quiche was one of the best quiches I have ever made. Try out this recipe in your crockpot and have an evening free to spend with your family. Get more exciting ideas for Simply Potatoes here: Simply Potatoes Recipes
Ingredients:
½ bag of Simply Potatoes diced with onions
1 Pie Crust
6 eggs
10oz of ham
1 cup of diced bell peppers
1 cup of cheese
½ cup of spinach
1/3 cup of  sour cream
1 tsp of pepper
½ tsp of salt
Directions:
Whisk together eggs until yolks and whites are incorporated. Stir in peppers, cheese, spinach, sour cream, salt and pepper. Set this mixture aside. Line the crockpot with parchment paper completely covering the sides. Place the pie crust into the bottom of crock on top of parchment paper, gently pressing into the sides of the crock.  Put potatoes on top of crust, then top with egg mixture. Put a paper towel over the top of the crock to capture moisture and then place lid on top of paper towel Cook on high for 4 hrs. or until quiche is set.
 Giveaway Time! Click below for details!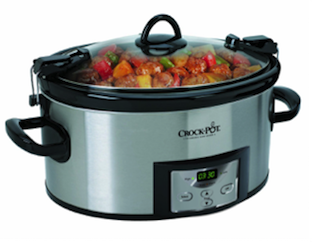 Be Sure to check out Simply Potatoes on Pinterest
This is a sponsored post written by me on behalf of Simply Potatoes for IZEA. All opinions are 100% mine.