This post brought to you by P.F. Chang's. All opinions are 100% mine.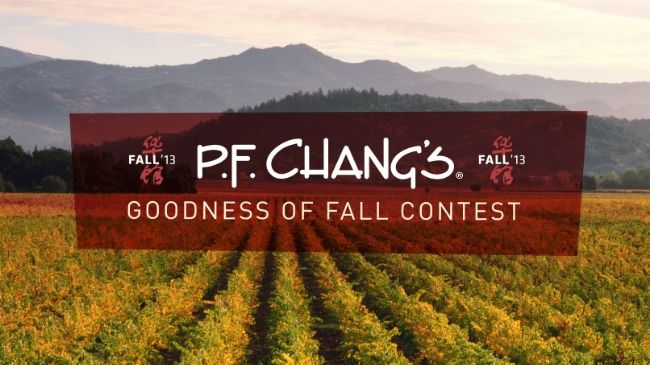 So I LOVE P.F. Changs.  My wife and I make it up to their Kenwood location in Cincinnati usually once every few weeks.  I generally get the chicken fried rice and my wife usually gets the Mongolian beef.  We ALWAYS get the fried green beans they are so AMAZING!  So because of my love of P.F. Changs, I want to introduce you to their new Fall Seasonal Menu!  There are some definite things I really REALLY want to try!
Ginger Jalapeno Mule and Apple Cinnamon Martini
Pumpkin Dessert Wontons
Apple Cinnamon Martini
Apple Dessert Wontons
Shanghai Waldorf Salad
Crispy Korean Chicken Wings
Miso Chicken
Harvest Vegetable Quinoa "Fried Rice"
Vietnamese Noodles with Steak & Shrimp
Citrus Mustard Prawns
Can you imagine pumpkin dessert wontons?!  Umm yes please!  The Harvest vegetable quinoa fried rice really calls to me as well.  I love quinoa.  I love the texture, the versatility of the flavor; it's just a great ingredient!  So with that, I want to share with you a recipe that was inspired by this amazing new menu!  I call it Crockpot Orange Teriyaki Chicken, with fried rice & quinoa!  It's so good and fresh!  We used fall ingredients like quinoa, bean sprouts and scallions with a little broccoli mixed in topped off with a fried egg.  It was delicious.
If you can't make it up to P.F. Changs until the weekend, this recipe will tide you over.  In addition, P.F. Chang's is also hosting the Goodness of Fall Contest, in which contestants will create at least 3 unique fall dishes highlighting 3 of the seasonal ingredients that are used on the new Fall Seasonal Menu. The top 5 recipes will then be submitted to a panel of judges for a chance to win the grand prize!  They have great prizes including a $50 daily P.F. Changs gift card winner and a grand prize winner who will win a two night trip to Napa in the spring of 2014!!
I'd encourage you to enter your recipe in The Goodness of Fall Contest, and visit P.F. Changs for their new Fall Seasonal Menu; it's only here for a limited time!!  If you were to visit, which dish do you think you'd try?!
Crockpot Orange Teriyaki Chicken
2lbs of boneless skinless chicken breast
1/3 cup of brown sugar
1/2 cup of teriyaki sauce
2 tbs of soy sauce
the juice of 3 oranges
4 garlic cloves
1 inch of ginger peeled and grated into crockpot
2 cups of chicken broth or stock (low sodium)
Zest 2 oranges
Fried rice
3 bags of steamable bags of brown rice
1/3 cup of oil
2/3 cups of shredded carrots
1/2 cups daikon sprouts (you can use bean sprouts if desired)
1/2 corn
1/3 cup of soy sauce
2 tsp of teriyaki
1/2 tbs of garlic powder
1 bunch of scallions
1 head of broccoli (Chinese Broccoli Preferred)
1 small box of quinoa
Instructions:
Place all ingredients into crockpot
Cook on low for 6 hours or on high for four
Make quinoa according to box directions
Fried rice:
Place oil in a skillet and let get hot
Steam rice in microwave
Add in carrots and sprouts to oil in pan
Add 1 bunch of scallions chopped including the green parts
When rice is finished add in rice and soy sauce and teriyaki
Along with corn and garlic powder
Add the onions in with corn and garlic powder
Make quinoa according to box directions
Place rice into bottom of boil, then add quinoa, chicken and garnish with some chopped scallions.
Enjoy.
As always, for other great deals like the $10 off $40 coupon on The Goodness of Fall Contest page Follow @pfchangs on Twitter and Follow P.F. Chang's on Pinterest