This post brought to you by P.F. Chang's. All opinions are 100% mine.
Date Night is something that my Hubby and I make a point of to do every week.  We are two very busy people, he working full-time and blogging, and myself a Stay-at-home Mom of a very active 4yr. old and also working on both of our blogs. So it is essential for us to take time for ourselves out to talk and connect.  Our usual routine is dropping our daughter off with Grandma, and going to an agreed on dinner destination, which is usually a casual dining place like P.F. Chang's, and then either a movie (my fave) or an activity like bowling.  So we have about 5 hours of uninterrupted time, which for me is essential.
I think that having these date nights has really been pivotal for our relationship especially since the birth of our daughter, and I am really grateful that we make a point to have this time to ourselves. But as with anything you can get into a rut with things. My husband especially likes to frequent places over and over again.  He gets the same thing without fail, but I am almost always the person willing to go out on a limb and try new things.  So, I keep him, without his knowledge lol, on a rotating schedule of different restaurants. When its time to visit P.F. Chang's I get especially excited.
I love, love, love P.F. Chang's and for me its a perfect date night spot. The have what I like to call "mood lighting" and it just creates the perfect ambience for a romantic start to the evening.  But what makes P.F. Chang's even more special is the quality and consistency of good food.  I have yet to go to P.F. Chang's and leave there disappointed.  The egg rolls are amazing, the crispy green beans, the fried rice, and Mongolian beef, just to name a few are consistently delicious. So this time when we visited I wanted to try something different. I was excited because of the quality of food they continue to churn out.
Branch out time, I was trying to decide what I was going to get. My husband of course was going to get his tried and true Chicken Fried Rice or Sesame Chicken, with a Fried Green Beans starter, but when I spotted the Winter Seasonal Menu, I knew I wanted to try something fresh!  So P.F. Chang's has several new items for you to choose from on their new seasonal menu and they are:
•Orange Ginger Beet Salad—Sliced red and gold beets mixed with fresh oranges and tossed with honey-ginger dressing, finished with crumbled goat cheese, candied walnuts and daikon sprouts. (Wine Pairing: Frog's Leap Sauvignon Blanc)
•Shanghai Waldorf Salad—Fresh chopped kale, endive, radicchio, crisp apples, grapes, celery, grape tomatoes and candied walnuts tossed in a light miso-lime vinaigrette. (Wine Pairing: Estancia Pinot Grigio)
•Chili Shrimp Bao—Asian-inspired "sliders." Warm, pillowy bao buns filled with Bibb lettuce, chili-marinated shrimp, pickled daikon, carrots and cucumber topped with tamarind-chili sauce. (Wine Pairing: Mer Soleil "Silver" Chardonnay)
•Firecracker Chicken—Savory and spicy hoisin-glazed chicken breast, wok-fired with pineapple, Chinese broccoli, Asian mushrooms, Fresno peppers and dried chilies. (Wine Pairing: S.A. Prum "Essence" Riesling Red Wine)
•Pepper Braised Beef—Red wine and black pepper sauce wok-tossed with marinated flank steak, sliced potatoes, broccolini, Napa cabbage, grape tomatoes and Fresno peppers. (Wine Pairing: Alamos Malbec)
•Miso Glazed Salmon—Broiled and served with grilled baby bok choy and cool julienne daikon radish in a warm savory broth. (Wine Pairing: Tozai "Living Jewel" Junmai Sake)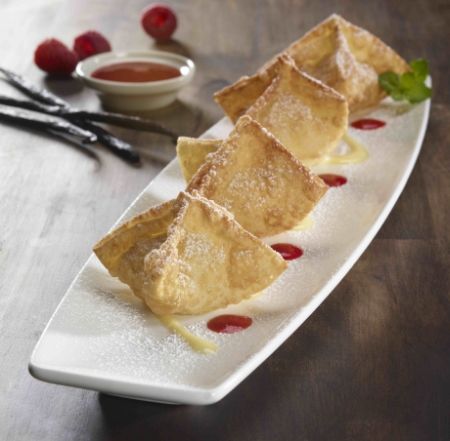 The restaurant is also introducing two new desserts and beverages:
•Chocolate Raspberry Wontons—Handmade, crispy wontons with a creamy chocolate-raspberry filling, dusted with powdered sugar, served with chocolate and raspberry sauces, fresh raspberries and mint.
•Sweet Vanilla Cream Wontons—Handmade, warm and crispy wontons filled with vanilla cream cheese, dusted with powdered sugar, served with vanilla and raspberry sauces and fresh mint.
•Crimson Spritzer—Plymouth Gin and Luxardo Cherry Liqueur with marasca cherries, fresh lime juice and muddled kaffir lime leaves, topped with Mumm Napa Brut.
•Red Goose Martini—Grey Goose Vodka shaken with POM Wonderful pomegranate juice, Thai basil leaves, fresh ginger and lime juice.
As you can see they have quite a new selection to choose from. Since my hubby decided on crispy green beans for an app, I decided that I would get the Firecracker chicken. Sure it was something new and sure it's a risk, but hey I like to live on the culinary wild side you know?!  So we ordered the crispy green beans and they were delicious as always, and then our entrees came and I was very excited to try this new dish. The waitress had told me it was quite spicy, which is completely fine with me, and when it came out I caught a whiff I was excited. So when I first looked at the dish, the hoisin glaze glistened back at me, and I saw an array of veggies, and some pineapple pieces which help temper the heat level.  It also came with a perfectly steamed side of rice; I chose to get brown rice.  When I took the first bite there was an explosion of sweet hoisin, pineapple and then hit with the heat of the chili's of the dish, followed by the finish of lemon grass. I can say I really enjoyed trying this new dish at P.F. Chang's, I'd encourage you to try it too!   If you visit P.F. Chang's, remember to print out this $10 off $40 for a limited time, who doesn't love good food with a little bit of savings thrown in?!
Giveaway Time!!!  P.F. Chang's wants you to experience their new seasonal dishes as well!  We are teaming up with them to give away a $25 gift card!  All you do is head over to P.F. Chang's Winter Seasonal Menu, tell us the favorite seasonal dish you'd like to try and leave it as a comment (along with your email address!).  That's it.  The giveaway ends on Feb 21st and we will select a winner on February 22nd.  Good luck!
As always, remember to Follow @pfchangs on Twitter and Follow P.F. Chang's on Pinterest as well!
Congrats Melissa P for winning!!