This is a sponsored post written by me on behalf of Snack Pack for IZEA. All opinions are 100% mine.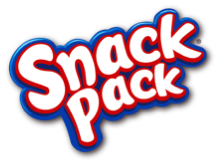 For the last few months I have been preparing my nearly 5 year old to go to kindergarten. We have talked about how it's going to be different from preschool and that she will be in a big brand new building. Not to mention her Mother will be a crying wreck on the first day she has to drop her little girl off at that huge building. But one of those big changes for Hannah will be eating lunch at school. She doesn't eat at preschool now we usually just run home and my wife fixes her lunch.
Hannah is very excited to take her special lunch to school next year and so we have to at least once or twice a week pack our special lunch in her special lunch box or cooler really.  My wife is very careful about what kinds of foods she allows Hannah to eat making sure she has well balanced meals. Hannah is quite a good little eater and we really don't have to force her to eat get veggies. My wife understands that kids need balance and so my wife also lets Hannah have a snack pack pudding cup in her special lunch.
Hannah really loves any of the Snack Pack  flavors but her favorite had always been chocolate. My wife loves snack pack because of its wholesome ingredient and quality taste. (She sneaks a lick or two 😉 shhhhhhhh.) Hannah loves them because she is getting a treat and they are so easy for her to open so she doesn't have to ask for help. As soon as Hannah is done she's licking her lips and saying mmmmm that was yummy!!
I feel good about Hannah having her snack pack treat because I know she is getting 30% of her daily calcium needed. My wife is a No High Fructose Corn Syrup nut and snack pack doesn't have any. I also love that it has no preservatives and if you struggle with gluten, they are gluten free. Out of all the snacks and treats that we could allow her to have, I think that snack pack is a better option than many of the treats out there. I know that if she eats nothing else in her special lunch when she goes to school, she will eat her pudding and she will love it! I also get cool points as a Dad when we go to the store to buy her special pudding cups for her special lunches!
Try Snack Pack Puddings out today and see how they make your kids lunches start to smile!