This post brought to you by Honeysuckle White® and Shady Brook Farms®. All opinions are 100% mine.
I love to grill, and I love trying to grill new things I've never grilled before. I've grilled many different foods over the years, all kinds of veggies, meats, and even some fruits! As many of your know, have blogged about eating healthier and getting enough lean protein in my diet. So I started researching. What is the best lean protein I can eat to get the most bang for my buck so to speak? I decided I would give Honeysuckle All Natural Turkey Tenderloins a try.
One of the things that I need for a meal to be successful is the ease of cooking. So when I was shopping I found Honeysuckle Turkey Tenderloins that already had the seasoning on them marinating all their flavorful goodness. I just knew these would be awesome on the grill!  Confession: I have never tried cooking turkey on the grill, so I wondered if it would work.
I decided to oil the grates slightly because the turkey is such a lean protein I didn't want it to stick to grates. I unpacked the turkey tenderloins and there were two to a package. I ended up buying the rotisserie flavor and the zesty Italian. I did absolutely nothing to them except take them from the package to the grill. I turned my gas grill on low heat, or you could move the coals to one side and place the turkey on the opposite side. I wanted to cook it slowly so that it retained it juices! Be sure that when cooking the burger, the temperature reaches 165°F.
I will tell you the end result was mouthwatering juiciness. I have never had turkey turn out like this, and I spend days on my turkey at Thanksgiving! It was awesome! The meat was so moist I was amazed! Try any flavor of the Honeysuckle Turkey Tenderloins and you will love them too! I made a three-bean salad to top the tenderloins along with some coleslaw and this made one tasty sandwich.
I have really fallen in love with Turkey.  It's a great healthful alternative to other proteins.  It has more protein than beef and fewer calories than chicken and less fat than pork.  When I told my husband that, he said "it's the CrossFitters dream meat!"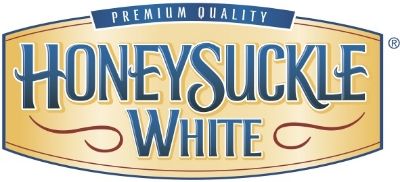 Honeysuckle has a variety of products brats, burgers, tenderloins and much more.  The great thing about Honeysuckle products:
They are easy to prepare, loaded with flavor, and can go from freezer to table in 20 minutes.
They have 6 varieties to choose from, including Savory Seasoned, Ready to Season, Cheddar Jalapeño, and Swiss, Bacon & Onion.
Their new turkey burgers are gluten-free burger patties
Three Bean Salad Turkey Burgers | Honeysuckle Turkey
Ingredients
Three Bean Salad Recipe
Two can of three bean mixture
1 cup of frozen corn
2 small tomatoes diced
Juice of 1 lime
1 tbs of apple cider vinegar
2 garlic cloves
½ small onion finely chopped
½ of red, orange, yellow bell pepper
Salt and pepper
Coleslaw
¼ cup of sour cream
¼ cup of plain Greek yogurt
½ cup of mayo
1 bag of coleslaw mix
½ tbsb of vinegar
1 tbs of sugar
½ small onion grated
Salt to taste
½ tsp celery salt
½ tsp of dry mustard
Instructions
Three Bean Salad Recipe:
Drain and rinse beans. Add all ingredients into a mixing bowl and gently stir to combine. The longer this salad sits the more tastier it will get.
Coleslaw Recipe:
Combine all ingredients in a mixing bowl and allow to chill for 1-2 hrs.
Honeysuckle has a great new app & sweepstakes!  Check it out
here
.  Lastly,
For tips and recipes, visit Turkify.com
!